It is as long as 1200 years since moving from the Nagaoka-kyo Capital.
It is said that the Heian-kyo Capital (old name of Kyoto) was founded since the lay of the land boded well (so-called "Shijin So-oh").
The Kamogawa River runs across the city of Kyoto from north to south as the Azure Dragon.
The area on the east side of the Kamogawa River is called Ohto.
Therefore, the Keihan Railway line between Sanjo and Demachi-yanagi is called the Ohto line. The Gion red-light district in the south lends a Kyoto-like atmosphere to the Ohto area.
Chion-in, the head temple of the Jodo sect, is in the Ohto area.
Its Sanmon (main gate) is famous as the largest gate for wooden buildings in Japan.
When standing under it and looking up, we are struck by its dignity.
Other than the main gate, there are important cultural properties, such as Kyozo (scripture house) and Miedo and many other sights to be seen.
Among others, the most famous one you may know well is "Jingoro's umbrella left behind" in the corridor around the temple, which is said to be placed there by Hidari Jingoro, master builder.
It is commonly called "Jingoro's umbrella left behind."

The street that turns from Higashi Oji Street at Sanmon toward the west is Shin-Monzen Street.
The street next to it (on the north) is furumonzen Street. The street running at right angles to these two streets along the Kamogawa River is Nawate Street (Yamate Oji Street).
They have long been the worship streets of Chion-in, and this neighborhood has prospered as a temple town.
Shops with antiques and art opened here since we do not know when.
About thirty-five years ago, the art dealers founded the Kyoto Ohto Antique Art Association, and this area has been called "Town of Antiques" since then.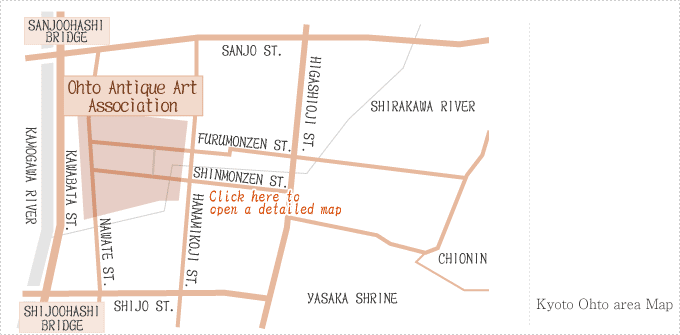 The members of the Kyoto Ohto Antique Art Association deal in a variety of antiques. Each shop has its own specialty and original characters.
Our Kyoto Ohto Antique Art Association, standing for expertness, attracts the special attention of art collectors inside and outside Japan for the especially high quality of art it offers and the shops that are incomparable with any other areas in Japan.
We pride ourselves as a major figure in antique circles.
Please search the Ohto antique town with the Kyoto atmosphere slowly to encounter favorite antiques.