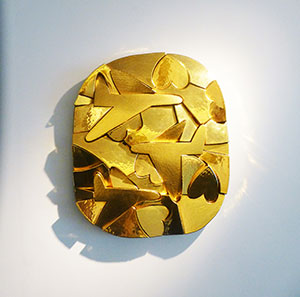 [FLYLOVE(GOLD)]
Fausto Salvi
Size:42×49×h5cm
Material: Ceramic, Gold

Fausto Salvi has a pottery studio in Italy and he takes an active part in the international art scene by working in residence and entering numerous works into various exhibits in Europe, America, and Asia. Using traditional technique of Majolica ceramics, he makes sculpture with pop colors and decoration.

"Fly Love" refers the pleasure of travel, the discovery of new places and people, and satisfaction of the desire and curiosity about new things.
SOKYO
〒605-0089
381-2,Motomachi, Higashiyama-ku, Kyoto
TEL:075-746-4456
FAX:075-746-4457